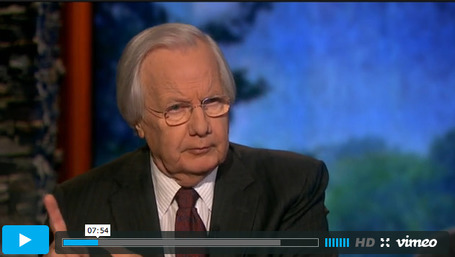 Watch Moyers & Company at BillMoyers.com
One of the reasons Moyers & Company frequently returns to the theme of money and politics is because it's absolutely necessary to do so. Nothing corrupts our political system more than the ability of the rich and influential to spend limitless amounts of money — often in secret — with the intention of creating preferred political outcomes. And far from being a regulator of campaign finances, our political funding laws — aided by a corporate-friendly Supreme Court and self-interested politicians — only facilitate the process of empowering the few while subjugating the many.
Few understand how money moves in and out of our political system better than campaign finance reform advocate Trevor Potter. A former chairman of the Federal Election Commission and founding president of the Campaign Legal Center, Potter was Stephen Colbert's chief advisor when Colbert formed his own super PAC and 501 (c)(4) in a clever effort to expose the potential for chicanery behind each.
Bill and Potter discuss how American elections are bought and sold, who covers the cost, and how the rest of us pay the price.
"I can assure you that if someone is spending millions of dollars to elect the candidate, the candidate knows where that money is coming from. There's nothing illegal about telling them, but the voters aren't going to know that," Potter tells Bill. "We're creating opportunities for corruption and candidates being beholden to specific private interests because of funding, yet there's no disclosure to the rest of us." [MORE]