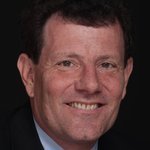 By Nicholas D. Kristof (New York Times)
DIPLOMACY is a minefield, and Mitt Romney spent the last week blowing up his foreign policy credentials to be president. He raised doubts about his capacity to deal with global crises, and we were left hoping that if that 3 a.m. call ever went to him, he'd have set up call forwarding.
The essential problem is that every time Romney touches foreign policy, he breaks things. He went on a friendly trip to Britain — the easiest possible test for a candidate, akin to rolling off a log — and endeared himself by questioning London's readiness to host the Olympic Games. In the resulting firestorm, one newspaper, The Sun, denounced "Mitt the Twit."
(Imagine a President Romney making a London trip and helpfully offering off-the-cuff advice on Northern Ireland, or breaking the ice in Parliament by telling jokes about Queen Elizabeth. The War of 1812 would resume, and the British would again be burning down the White House.)
Then there was the Romney trip to Israel, where he insulted Palestinians and left some Jews uncomfortable with stereotyping by praising Jewish culture in the context of making money. Hmm.
After that trip, you'd have thought that on foreign policy, Romney might remember the adage: Better to remain silent and be thought a fool than to open your mouth and remove all doubt.
Yet with the Middle East exploding in recent days because of a video insulting the Prophet Muhammad, Romney dived in with a statement that hit a trifecta: it was erroneous, inflammatory and offensive.
Still, I was initially in a forgiving mood. Presidential candidates always have microphones in their faces, and it's not surprising that periodically they say inane things. President Obama himself blew it a few days ago by mistakenly asserting that we didn't consider Egypt an ally. But Obama then had the good sense to have the White House clarify that "not an ally" in that context meant "an ally."
If Romney had similarly explained that in denouncing Obama he was actually praising the administration, the episode might have blown over. But after a night of sleep, he doubled down and repeated his denunciation of the president. That was just reckless.
[MORE]