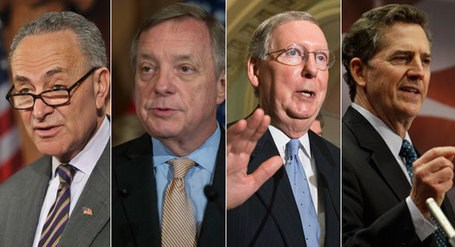 By Manu Raju and Seung Min Kim (Politico)
For all the hype surrounding the dreaded fiscal cliff on taxes and spending, an increasing number of lawmakers are starting to push for Congress to do what it does best when faced with a difficult decision: punt.

If Mitt Romney wins the presidency, Republicans in Congress will block any action until he's sworn into office. If Republicans win the Senate, they'll stall any effort to solve the massive tax increase and spending cuts until they hold the gavels. And if it's a status quo election — President Barack Obama wins and Congress remains divided — negotiations may begin in earnest right after Nov. 6, but it will be hard to make a landmark deal before Dec. 31 given the resistance from House Republicans to any tax increases and Democratic unwillingness to overhaul entitlements.
All these scenarios are being actively discussed by congressional leaders as they return to what is likely going to be a brief, unproductive September session after a long August recess.
One thing is certain if Romney wins: Congress will kick any serious talks into early 2013, but the new president might have virtually no honeymoon as he would have to strike a very difficult deal on the most intractable spending and taxing issues facing Washington. The Congressional Budget Office, Capitol Hill's nonpartisan budget scorekeeper, has warned that ignoring the fiscal cliff could trigger another recession. ...
[MORE]