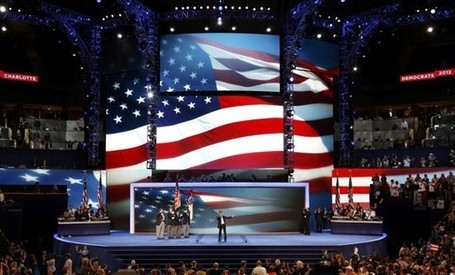 By Glenn Kessler (The Washington Post - The Fact Checker)
Eight years ago, when Sen. John Kerry (Mass.) was the Democratic nominee for president, he blasted then-President George W. Bush for his record on jobs. He often noted that Bush was on track to be the first president since Herbert Hoover to preside over a net loss in jobs.

Bush, by contrast, repeatedly proclaimed that 1.7 million jobs had been added since April 2003 — a cherry-picked date designed to put his jobs record in the best possible light.
With the economic shoe on the other foot, now it's GOP presidential nominee Mitt Romney who uses the attack lines honed by Kerry, and it's President Obama who relies on Bush's strained economic accounting.
Such manipulation of statistics is standard fare for political campaigns, which is one reason why voters should always take such claims with a grain of salt. Yet something deeper and more disturbing is also affecting the political system.
With the conclusions of the back-to-back political conventions, it is clear that both parties occupy parallel universes, with their own narratives and starkly different philosophies. The Fact Checker column tries to steer clear of philosophical disputes, but increasingly claims made by politicians are geared for the echo chamber of the party faithful. ...
[MORE]