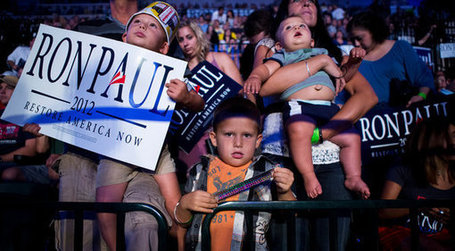 by ADAM NAGOURNEY, New York Times
Mitt Romney arrives here this week to accept his nomination from the increasingly disparate coalition of factions known as the Republican Party, confronting the challenge of unifying them behind him and — should he win — exerting his own authority over a party that is in many ways still forging a post-Bush identity.
In interviews, Republican leaders said they were united and energized by the prospect of defeating President Obama and enacting bedrock Republican principles: shrinking the government and reducing spending and taxes.
At the same time, many said they were concerned about the crosscurrents that have churned the party, particularly since the emergence of the Tea Party movement three years ago. And on Sunday, thousands who supported the presidential campaign of Representative Ron Paul of Texas rallied here to challenge what they view as business as usual among Republicans.
Some leaders expressed worry that the turn to contentious social issues in the days leading up to the Republican National Convention, where the party platform is likely to embrace a tough anti-abortion stance and strict curbs on immigration, could undercut the party's need to broaden its appeal. Many of them said they feared it was hastening a march to becoming a smaller, older, whiter and more male party.
"The Republican Party needs to re-establish its philosophy of the big tent with principles," said Dan Quayle, the Republican former vice president. "The philosophy you hear from time to time, which is unfortunate, is one of exclusion rather than inclusion. You have to be expanding the base, expanding the party, because compared to the Democratic Party, the Republican Party is a minority party."
George E. Pataki, the Republican former governor of New York, said he agreed with the Tea Party's principle of reducing taxes and the size of the government. But he said he was concerned that antigovernment sentiments advocated by some Tea Party activists could push it out of the political mainstream.
"What I fear is that that very positive desire to limit the power and the role of the federal government could turn into a philosophy that is antigovernment," Mr. Pataki said. "Sometimes, those who I fear have that antigovernment view, as opposed to the limited-government view, rise to the center of the nominating process. I think that is not a good thing for the Republican Party." [MORE]