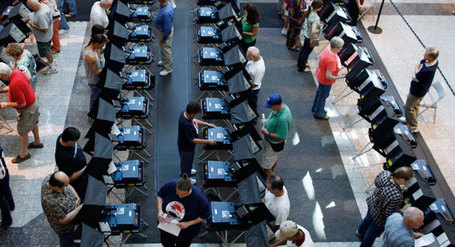 By Lawrence Norden, Politico Opinion Contributor
Why are states with new voting restrictions so unconcerned about fraud that is the real threat to our elections?
Over the past 18 months, in a bitterly partisan environment, several states have passed new restrictions on access to voting. They often say they did so to prevent fraud. But something doesn't add up. The very states that passed the most restrictive laws have also failed to take basic security steps recommended by experts to prevent fraud - steps that nearly every other state in the country has taken.
...
...Several studies have shown that insecure voting machines are among the most serious risks to the integrity of our elections. There is wide agreement among computer scientists and security experts who have studied elections that paperless touchscreen voting machines are especially insecure.
A non-partisan task force of the nation's leading experts convened by the Brennan Center in 2005 identified 35 potential attacks against such machines, each of which had the potential to change the outcome of a major statewide election.
An overwhelming 40 states have responded to this evidence by taking the most basic security measure they could: They moved toward requiring voter-verified paper records for every voting machine. These paper records can be used to make sure that voting machines were not hacked or manipulated.
And what of the nine states that have passed voter ID laws which could be in effect this November? The states that claim to be so concerned about the integrity of our elections? Eight use paperless touch screen voting machines. One, Tennessee, passed a law to move to paper records four years ago, but has failed to implement it. A majority of its machines are still paperless.
[Read more.]
Lawrence Norden is deputy director of the Democracy Program at the Brennan Center for Justice at NYU School of Law.