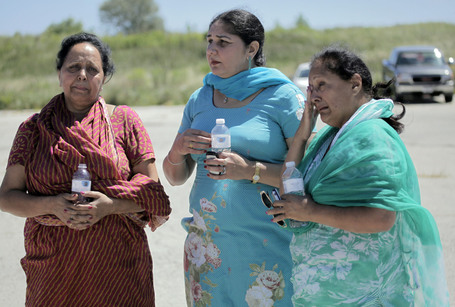 by Mike Johnson, Karen Herzog and Annysa Johnson, Milwaukee Journal Sentinel
At least seven people were killed, including one shooter, just after 10 a.m. Sunday at the Sikh Temple in Oak Creek, police said.
Four of the dead were inside the temple at 7512 S. Howell Ave. and three of the dead, including a shooter, were outside the temple.
A police SWAT team entered the building before noon and brought uninjured people out of the building at 7512 S. Howell Ave.
They started removing injured people from the temple's prayer room.
SWAT team members were still sweeping the building about 1 p.m. and an explosion was heard from the building at that time. It was unclear what the explosion was.
About six gunshots were heard at 2:30 p.m. in the area. The shots appeared to be coming from the temple.
The first officer on the scene Sunday morning encountered an active shooter and exchanged fire with him, according to Greenfield Police Chief Bradley Wentlandt who briefed media on the scene. The shooter went down and is believed to be dead, said Wentlandt. He said authorities had no evidence of a second shooter.
Wentlandt said the officer was hit multiple times, but is expected to survive. He said the officer was a 20-year veteran and "an extremely accomplished tactical officer." He was taken to Froedtert Hospital in Wauwatosa where he was in surgery just before 2 p.m.
White House officials said President Barack Obama was notified of the shootings shortly before 1 p.m. by John Brennan, his Homeland Security adviser. The president continues to receive updates. [MORE]