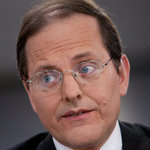 By BINYAMIN APPELBAUM
WASHINGTON - The independent federal agency that administers Fannie Mae and Freddie Mac said on Tuesday that it would not let the mortgage companies offer debt forgiveness to borrowers, again rejecting the entreaties of the Obama administration.
The Federal Housing Finance Agency said it had concluded after months of study that up to half a million homeowners could benefit from such a program, and that taxpayers might save $1 billion because aid recipients would be more likely to continue making mortgage payments.
But the agency's acting director, Edward J. DeMarco, said the benefits most likely would be much smaller - too small in his judgment to offset potential costs, including the risk that some borrowers would stop making payments in pursuit of a better deal.
Offering debt forgiveness "would not make a meaningful improvement in reducing foreclosures in a cost-effective way for taxpayers," Mr. DeMarco said in a statement Tuesday.
The announcement is a direct rebuff to the Obama administration, which has pressed Mr. DeMarco for more than a year to let Fannie Mae and Freddie Mac join nearly every other major mortgage company in offering debt forgiveness to borrowers who owe more than the value of their homes.
[Read more.]