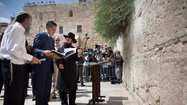 By David Lazarus, LA Times
Mitt Romney established universal health coverage in Massachusetts with an individual mandate to buy insurance. But he says he'll overturn an identical system at the federal level.
He also has dismissed the idea of a Medicare-for-all insurance system in the United States. Yet the presumptive Republican nominee-to-be is hailing Israel's healthcare system as a model of efficiency and effectiveness.
And what do you know - Israel has something like a Medicare-for-all system.