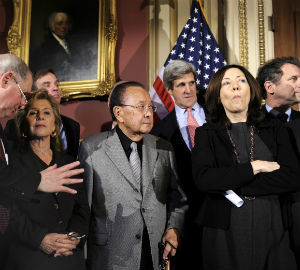 A U.S. representative suggests: If members of Congress can't pass a budget, we should stop paying their salaries.
By Jim Cooper - Jim Cooper is a Democratic member of the U.S. House of Representatives, serving Nashville and its surrounding areas.
If taxpayers want better results from Congress, they must stop paying their elected officials for failure. After all, you get what you pay for.
That's why I've introduced a bill called No Budget, No Pay. It's not your typical congressional reform. It is the first effort to pay Congress for performance, the way that an increasing number of doctors, teachers, corporate executives, athletes, and other professionals are paid.
The bill, H.R. 3643, is so simple that it sells itself. If Congress fails to pass a budget and all 12 appropriations bills by the beginning of each fiscal year, October 1, congressional pay will stop. If Congress is even a day late, the penalties could be hundreds of dollars per day per congressman. Longer delays mean greater penalties (and the missed pay cannot be retroactively restored). It's a harsh regime, but a necessary one. Our nation suffers when Congress fails to pay America's bills on time.
[Read more.]