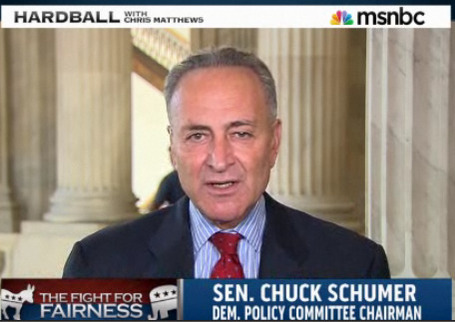 U.S. Senate Votes to Limit Bush Tax Cuts to $250,000 of Income
by Siobhan Hughes, Wall St. Journal
U.S. Senate Democrats, responding to President Barack Obama's populist message, Wednesday voted to allow the Bush tax cuts to lapse for household income above $250,000, saying the rich should pay more to help control the deficit.
The vote established a partisan tone likely to dominate Congress through the November elections and beyond. Democrats and Republicans are fighting intensely because the 2001 and 2003 tax cuts expire in a little more than five months and both sides have constituencies that would be affected.
By 51-48, the Senate passed a Democratic plan to extend the Bush tax cuts for couples making less than $250,000. Vice President Joe Biden arrived on the Senate floor shortly before the vote, preparing to cast a vote for the legislation in the event of a tie.
Not one Republican voted for the one-year, $250 billion measure. Sens. Claire McCaskill (D., Mo.), Jon Tester (D., Mont.) and Bill Nelson (D., Fla.) voted with their party, in spite of pressure to break with Mr. Obama ahead of competitive re-election races.
Facing renewed economic weakness, Mr. Obama has turned the conversation toward taxes. Two weeks ago, Mr. Obama announced he wouldn't yield in his position that households with more than $250,000 a year should face higher taxes. It marked a new stage of the fight and put some Democrats in a tough spot. Democrats from states like New York and California with high-cost areas have constituents who earn more than $250,000 and would feel the pinch from higher federal taxes.
"The president thinks he has struck political gold with this argument," said Sen. Orrin Hatch (R., Utah). "He will be able to run for re-election on a platform of raising taxes on the mantle of deficit reduction. This might be politically advantageous, but I doubt it."
Republicans said Mr. Obama and his Democratic allies threatened to add to the U.S. economy's problems by raising taxes. A $404 billion Senate Republican plan, which would have extended current individual tax rates for all Americans and avoided subjecting millions of Americans to a widely criticized alternative-minimum tax, failed by 54-45. Republicans want to extend all the Bush tax cuts at once, causing Democrats to conclude they have the upper hand.
"There's this overwhelming concern about what the Republicans call decoupling," Mr. Biden told reporters Tuesday. "They know that if there's a separate vote and the middle-class tax cut is in they don't have the popular support for extending the tax cuts beyond that. Republicans have fixated on extending all the cuts, and what they're doing is very simple, and you can understand it from their perspective, they're holding the middle-class tax cut hostage." [VIDEO: Interview with Sen. Chuck Schumer (D-NY)]