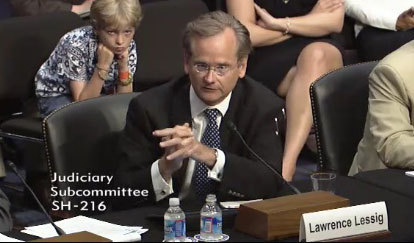 From prepared testimony of Harvard Law Professor Lawrence Lessig before the Senate Judiciary Committee, speaking out against "Citizens United," the 2010 Supreme Court decree for unlimited, anonymous spending to influence American elections.
The People have lost faith in their government.

They have lost the faith that their government is responsive to them, because they have become convinced that their governmentis more responsive to those who fund your campaigns. As all of you, Democrats, Republicans, and Independents alike, find yourselves forced into a cycle of perpetual fundraising — spending, according to the estimates in the academic literature, anywhere between 30% and 70% of your time raising money to get back into office or to get your party back into power — you become, or atleast most Americans believe you become, responsive to the will of "the Funders." But "the Funders" are not "the People": .26% of Americans give more than $200 in a congressional campaign; .05% give the maximum amount to any congressional candidate; and .01% — the 1% of the 1% — give more than $10,000 in an election cycle.

We have up-sourced the funding of your campaigns to the tiniest fraction of the 1%; America has grown cynical in response. Citizens United has only made this problem worse, as it has further and predictably concentrated funding in an even smaller sliceof America. In the current presidential election cycle, .000063% of America — that's 196 citizens — have funded 80% of Super PACspending. 22 Americans — that's 7 one-millionths of 1% — account for 50% of that funding. Citizens United has thus furthershifted the sources of campaign funding toward an ever shrinking few.
This, Senators, is corruption. Not "corruption" in the criminal sense. I am not talking about bribery or quid pro quo influence peddling. It is instead "corruption" in a sense that our Framers would certainly and easily have recognized: They architected a government that in this branch at least was to be, as Federalist 52 puts it, "dependent upon the People alone." You have evolved a government that is not dependent upon the People alone, but that is also dependent upon the Funders. [MORE] | [VIDEO]