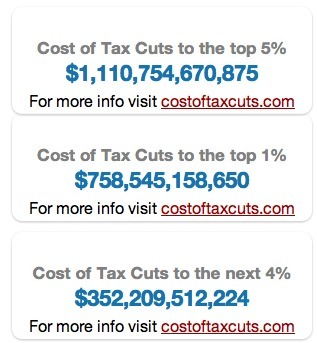 by Mattea Kramer, National Priorities Project
with research support by Andrew Fieldhouse
Tax revenues have plummeted. And the reason isn't just the recession.
In 2000, the federal government had a balanced budget and projected surpluses for years to come. Fast forward a decade, and Washington runs steep budget deficits while news media report that federal spending is out of control. Americans now list federal debt and deficits as one of their top concerns for the nation. But deficits depend on two things: spending and revenue. In 2000, when the budget was balanced, federal tax revenue amounted to around 20 percent of the U.S. economy.
Federal revenue as a share of the economy has dropped sharply since then, to its lowest point in more than half a century. Federal spending has increased in recent years, and this rise in spending has received ample coverage in the news media. Some lawmakers say the only solution to deficits is to make deep cuts in federal programs.
Yet there has been little mention of dwindling revenue.
Why measure tax revenue as "a share of the economy"?
The U.S. economy in 2012 is different than it was in 2000. In order to compare tax revenue across years, we measure revenue as a percentage of Gross Domestic Product (GDP), the size of the overall economy.
Via
Jessica English