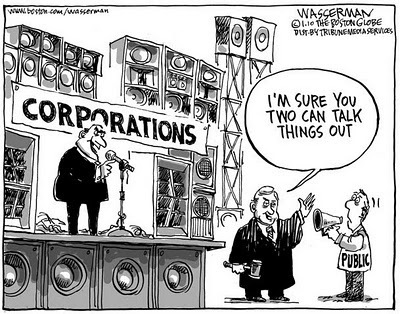 Corporations are funding policy organizations that are free of the disclosure rules applying to parties, candidates and PACs.
Excerpt from articlee by MIKE McINTIRE and NICHOLAS CONFESSORE, NY Times
Two years after the Supreme Court's Citizens United decision opened the door for corporate spending on elections, relatively little money has flowed from company treasuries into "super PACs," which can accept unlimited contributions but must also disclose donors. Instead, there is growing evidence that large corporations are trying to influence campaigns by donating money to tax-exempt organizations that can spend millions of dollars without being subject to the disclosure requirements that apply to candidates, parties and PACs.
The secrecy shrouding these groups makes a full accounting of corporate influence on the electoral process impossible. But glimpses of their donors emerged in a New York Times review of corporate governance reports, tax returns of nonprofit organizations and regulatory filings by insurers and labor unions.
The review found that corporate donations — many of them previously unreported — went to groups large and small, dedicated to shaping public policy on the state and national levels. From a redistricting fight in Minnesota to the sprawling battleground of the 2012 presidential and Congressional elections, corporations are opening their wallets and altering the political world. [Read More]