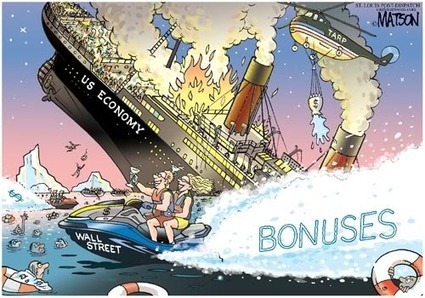 by SZELENA GRAY, Rootstrikers
Rootstrikers experiments with techniques to drive a grassroots movement to end the corrupting influence of money in politics. Recently, we launched The Anti-Corruption Pledge, which asks signers to commit to at least one of four principles of fair government. Pledge numbers are steadily climbing, prompting us to consider what the tool's next steps might be. One idea, inspired by our friends at Occupy Albany, is to form a voting bloc.
The Money Out of Politics Working Group from Occupy Albany has initiated a campaign called the Occupy Democracy Project to build the Money Out of Politics (MOP) Voting Bloc. The MOP Voting Bloc is a group of voters who sign up to be notified, at election time, whether or not candidates on the ballot support getting money out of politics, essentially saying to candidates and politicians, "If you want our votes, you need to support getting money out of politics." Matthew Edge, one of the organizers explains: "It's like a petition, but with teeth: we go door-to-door in competitive districts, canvass festivals and link to the "Join the MOP Voting Bloc" form on the web year round; then it all culminates in a massive GOTV effort where we phone bank, lit drop, door knock, snail mail and e-mail blast everyone who signed up to be contacted."
Initially the Money Out of Politics Voting Bloc was created to rally around one issue: clean elections, but in an effort to create a broader based coalition, they now will be informing members of the voting bloc about where candidates stand on a constitutional amendment and other campaign finance reform measures.
The Occupy Albany Money Out of Politics Working Group put together this resource on voting blocs. Can a people-powered pledge which allows its signers to determine their own version of clean elections organize to leverage political accountability? We certainly hope so. In workshops we hosted on the pledge, one issue that came up was whether or not we could reasonably expect a politician in the current system to be able to adhere to the principles of clean elections—if they hope to win. Could the promise of support from a massive bloc of voters change that?

[MORE from Rootstrikers]