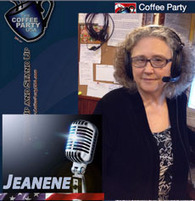 by Eric Byler
CLICK HERE for the complete schedule.
Jeanene Louden of Corvallis, OR hosts Lunch with Louden on Thursdays at 12 noon PT (3 pm ET). I hope Jeanene won't mind me saying she is the matriarch of the Coffee Party active citizen community. She can string words together with so much heart and so much love that it's impossible for callers and listeners not to appreciate the human cost of the political mistakes we make as a nation, and, to redouble our determination to do better in the future.
Jeanene also leads the team behind the online newsletter Coffee Party Feminists which you can contribute to here.
CLICK HERE for the complete schedule.