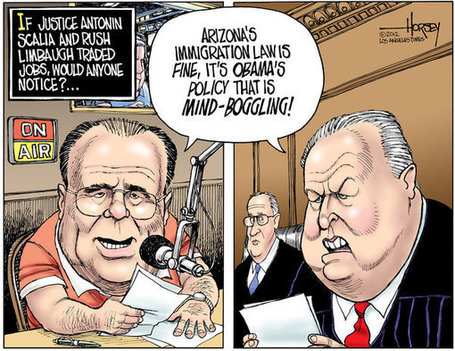 Excerpt from article by DAVID HORSEY, LA Times

In light of the Obama administration's recent decision not to enforce immigration laws against young people brought into the country by their parents, Scalia said it is "mind-boggling" to think states are prohibited from doing the job that the federal government is failing to do.
Right-wing radio's Limbaugh was quick to speak up in support of Scalia, employing the same distinctive characterization of the majority decision. "It boggles the mind," Limbaugh echoed. "All Arizona did was write a law that mirrors the federal law that Obama was not enforcing."
On this, as on all other issues, Limbaugh has his loyalists who agree with everything he says. He calls them "dittoheads." Scalia also has his dittoheads. They are the two justices who joined him in dissent on the Arizona ruling, Clarence Thomas and Samuel A. Alito Jr. The three are the unwavering conservative block on the court, usually joined by Roberts and occasionally by the perpetual swing voter, Anthony Kennedy. [MORE]
Via
Michael Charney