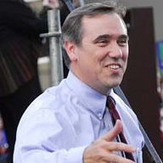 by CANDACE CLEMENT, Free Press
Primary season is in full swing and voters are being inundated with political advertising. Finding out who actually paid for all these ads is no easy task. The Supreme Court's Citizens United ruling ushered in a new era of deep-pocketed donors and gave them cover under innocuously named third-party groups and Super PACs.
But yesterday eight senators sent a letter to Federal Communications Commission Chairman Julius Genachowski in response to the agency's effort to increase transparency for television viewers in an election year. The group expressed full support for the agency's proposal to require TV stations to place their public and political files online.
"With campaign season in full swing and new Super PACs springing up weekly," the senators wrote, "the public must have access to information about who is funding these ads."
The eight senators, led by Sen. Jeff Merkley (pictured), include Daniel Akaka, Mark Begich, Michael Bennet, Al Franken, Jon Tester, Tom Udall and Sheldon Whitehouse. The group called on the FCC to implement its proposal "as soon as possible."
At Free Press we are huge supporters of this FCC effort and have long recommended that TV stations be required to post information about political spending online. This valuable information is currently hidden away in file cabinets stored at broadcast stations, which are largely inaccessible to the public. In this era of record-breaking spending, we need to know exactly who is spending millions to influence our vote.
Here is an excerpt from the senators' letter:
With the 2012 election season already underway, citizens have a right to know who is purchasing public airtime to support or oppose candidates. More people rely on TV stations for information than any other medium, making transparency in advertising critically important. However, the creators of campaign ads often hide behind confusing organizational names that do not provide adequate information about who is actually paying for the ads, or worse, can actually mislead the public about the identity or purpose of the advertisement. This problem is compounded by the Citizens United decision and the proliferation of Super PACs. The online posting of information in broadcast stations' political file cannot wait until months after the election; citizens deserve to know who is responsible for funding these advertisements today.