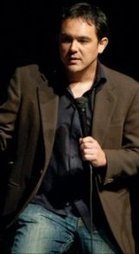 I'm going to be on the Thom Hartmann Show an hour from now (7:30 PM ET the show begins). I'm glad to have an opportunity to talk with Thom in person tonight because our radio chat yesterday has really gotten me thinking.
Below are some notes I jotted down about WHY WE TRY:
The Supreme Court is not impervious to public opinion, and they are not blind to the impact of their "Citizens United" decision. We the People don't yet know how much impact we can have on entrenched power because we don't yet know our strength. All we know do know is that our strength is in numbers, and with new media technology, that strength can, and recently has, impacted institutions like the US Congress which have ignored us systematically for decades.
The People are at a disadvantage in the 20th century model, what Lawrence Lessig calls the read-only model, because when political discourse is defined by a relationship between big microphones and little consumers, the outcome is going to be warped and bent toward the interests of those who can afford to buy the big microphones — political advertisements, news channels, or political advertisements disguised as news channels.
We need to embrace and unleash a technological revolution that allows for hundreds of millions of little microphones, not little consumers, little microphones, engaged in an on-going conversation that allows us to speak as well as listen. The People can erase the 20th century disadvantage by embracing 21st century tools, and engaging in political discourse shaped by an infinitely diverse set of participants. As James Madison predicted in his notion of pluralism, this conversation will bend toward the interests of the nation as a whole — the 99% is what we're calling it today, which is just another way of saying "We the People."
In the case of "Citizens United," the immediate task before us is to use our millions of microphones to shift the national conversation and focus on the root, not the symptoms, of the systemic corruption that produced the Great Recession, our unfair tax code, and this Super-PAC Republican primary.
"Citizens United," in some ways is a gift because it provides a very obvious clue as to where to find that root, and how to strike at that root. It has to do with how our elections are funded.
Look at what's in the news right now, we have billionaire donors like Sheldon Adelson, Foster Freeze, Bob Parry, and Harold Simmons becoming household names. They are more central to the process of choosing a Republican nominee than the candidates they take on as their pets. Our disgust, the conversation we're already having, is the widespread perception of corruption that Justice Kennedy implicitly said he feared in his majority opinion when Citizens United was decreed. Our job is to make that connection. A year ago, the average American didn't know what Citizens United was. A few months ago, they might have heard at it, but weren't yet passionate to do some homework on it. Right now, it's across the board, perhaps even more so among conservatives because they're the ones who are watching their nomination process get hijacked by a handful of wealthy families and multi-national corporations.
The root is exposed we have to strike.